Today's world is booming with anything-as-a-service. Hotels provide cuisine-as-a-service, travel companies offer foreign holidays-as-a-service, and the list goes on. Just imagine how much more challenging your life will be if you are not able to buy services. It is joyful to own a car; an apartment is icing on the cake; or have sufficient time to cook food. But it takes both effort and money to have them and then to maintain them. The same logic holds true with IT.
Previously, companies had to spend a large piece of their capital on the hardware and recruit specialists to maintain it. This privilege is unaffordable for small and medium-scale businesses. However, cloud computing has become a game-changer, and the way of delivering IT services has undergone a metamorphosis. We no longer need our own system to enjoy the advantages of state-of-the-art technologies.
There are three cloud computing models, namely, IaaS, PaaS, and SaaS. Each model has its own uniqueness, so choosing the right one will depend on the type of business needs and tasks you are ready to delegate to a cloud service provider. Let's discuss each cloud computing model in some depth and look at what they offer.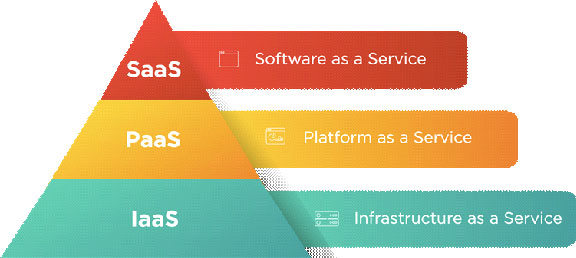 SaaS (Software-as-a-Service)
Software-as-a-Service or SaaS, is a ready-to-go software cloud computing solution available over the Internet. You may remember the days when you bought software and installed it on your PC to perform some activity related to business or entertainment. Those days are almost over with the SaaS cloud computing model that delivers software solutions without the need for installation on local servers or computers. The only thing needed to run them is a reliable internet connection.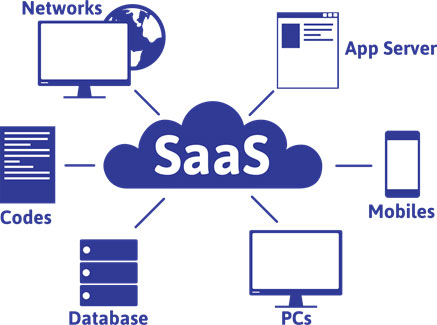 The cloud service provider will manage all the tedious tasks, maintaining hardware solidity that will allow proper application functioning. The advantages of the Software-as-a-Service or SaaS, cloud computing model are
Cost-effectiveness
Reduced time to benefit
High level of scalability
Managed Backups and Disaster Recovery
Accessibility
While the SaaS model offers significant benefits, it also has some constraints.
Regulatory compliance
Lack of control
Who benefits from SaaS?
Startup enterprises, small- and mid-scale businesses that need access to the Software they are unable to afford due to cost
Firms that require to improve the cash flow to support other sections of the business operations financially
Short-term projects and proof-of-concepts
Some of the examples of SaaS solutions include Salesforce, Slack, HubSpot, Zoom, Dropbox, and Office365.
PaaS (Platform-as-a-Service)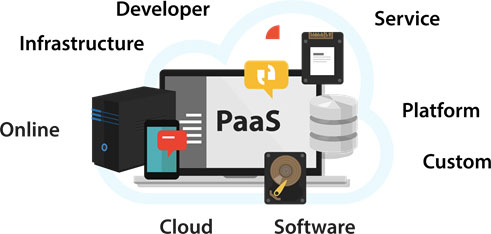 PaaS or Platform-as-a-Service lies in between SaaS and IaaS. PaaS provides a flexible platform with in-built software components and tools for the development of applications. PaaS service providers manage infrastructure, OS updates, backups, and security updates. In the meantime, clients manage application development without worrying  about the aforementioned aspects. Overall, PaaS speeds up software development and drastically simplifies the process. The advantages of PaaS, or Platform-as-a-Service are
Faster development
Cost Effective
Cross-platform capabilities
Access to the best tools
Remote work
Dynamic Scalability
Some of the challenges with the PaaS model include the
Vendor Dependency
Compatibility
Feature Lock-In
Who benefits from PaaS?
Organizations whoseprojects need a host of developers and vendors
Enterprises that have planned to develop bespoke applications
Companies with a need to improve time-to-market.
Examples of PaaS providers include Red Hat OpenShift, Heroku, Amazon Web Services (AWS), Google Cloud Platform (GCP), and Microsoft Azure.
IaaS (Infrastructure-as-a-Service)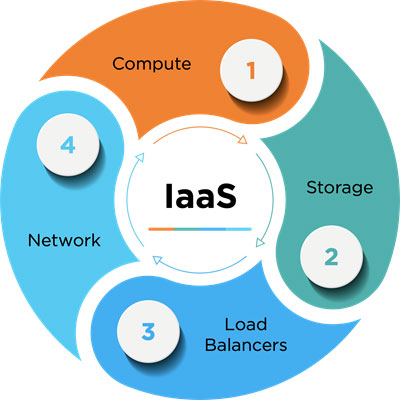 IaaS, or Infrastructure-as-a-Service provides pay-as-you-go infrastructure for your business operations. IaaS is the basic model of cloud computing. Through IaaS, a client rents a range of IT infrastructure components like cloud storage, data centers, servers, and networking solutions from a software provider. Basically, IaaS provides access vs. ownership. An IaaS service provider owns responsibility for the infrastructure, whereas end users lead the activities of installing, maintaining, managing, and supporting their applications and operating systems. The advantages of IaaS, or Infrastructure-as-a-Service are
Cost reduction
On-demand scalability
Increased Security
Disaster Recovery and Business Continuity
Some of the challenges with the IaaS model include
Cost Control
Regulatory uncertainty
Complex management and integration
Lack of flexibility
Who benefits from IaaS?
Startups & small firms with limited funds to build their own infrastructure
Companies that have grown too quickly to describe their needs on a permanent basis
Enterprises that wish to rent on a pay-by-use model and don't want to invest in the resources they don't use regularly.
Examples of IaaS providers include Amazon Web Services (AWS), Digital Ocean, Microsoft Azure, and Google Cloud Platform (GCP).
Conclusion
Whichever cloud model you opt for, it takes a bit of time to integrate and streamline your business operations. Migrating from your existing system to a new cloud platform (IaaS, SaaS, and PaaS) and training your human resources to manage it might be more challenging than you initially thought. However, once you choose the right cloud platform and get your team trained to an expert level, it will surely improve your productivity and help you grow your business at a faster rate.
FAQs
1. What are the two main variants of the SaaS cloud computing model?
A: The two main variants of the SaaS cloud computing model are Horizontal SaaS and Vertical SaaS. Horizontal SaaS caters to a wide range of customers, usually without regard to their industry. Some examples of horizontal SaaS vendors are Salesforce and HubSpot. On the other hand, vertical SaaS refers to a niche market catering to a narrower range of customers to match their specific requirements. Some examples of vertical SaaS include Guidewire and BioIQ.
2. What are some of the crucial factors for selecting a SaaS vendor?
A: The crucial factors for selecting a SaaS Vendor are,
Understanding business requirements
Technology & platform
Certification, compliance, and standardization
Data governance & management
Information security
Vendor relationships & partnerships
Service Level Agreements (SLA) and contracts
3. What are some of the common features of PaaS?
A: The PaaS platform usually comprises databases and middleware along with services to develop, deploy, test, host, and maintain applications within the same IDE (Integrated Development Environment) and service provisioning that enables multiple users to use the same IDE concurrently.
4. What are the key characteristics of PaaS?
A: The key characteristics of PaaS are
Multi-tenant architecture
Customizable and programmable UI (User Interface)
Robust workflow engine/capabilities
Unlimited database customization
Granular control over security or sharing
Flexible "services-enabled" integration mode.
5. What are the major obstacles to implementing IaaS security?
A: The major obstacles to implementing IaaS security are
Misconfiguration
Changes in visibility
Cloud email isn't that secure
Blocking data exfiltration
Various points of vulnerability
Physically different locations
Compliance & regulation differences.
6. What are the main characteristics of IaaS?
A: The main characteristics of IaaS are
Automated administrative tasks
Platform virtualization technology
Dynamic scaling
GUI & API-based access
Internet connectivity.