Software plays a vital role when it comes to running businesses. The technology sector is turning into a competitive sphere and a requirement to keep up with the pace of change in modern marketplaces is the need of the hour. Businesses that do not have an experienced software organization running their operations risk stagnation to their business progress.
Therefore, it becomes critical to ensure that your company is equipped with a team of adept developers. They can constantly update products, enhance features, resolve issues swiftly, and provide support for daily activities such as reporting bugs. Following are a list of some common Types of Software that businesses can benefit from and utilize for growing their business.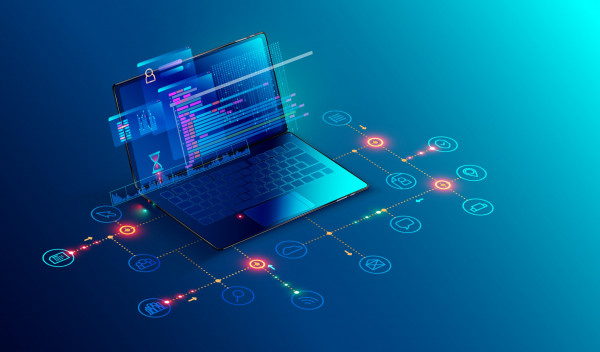 Image Credit:- calbizjournal
Online Invoicing Options
Every business is different, but the majority of them need some kind of online invoicing software that will generate an invoice after a sale is made and email it to the customer. It's not difficult to create an online invoice with these options and they allow you to charge by item or by time worked. Plus, they'll also track your time so you know how much each customer owes you! Depending on what kind of work your customers do, invoices can be generated in minutes or hours. So, make sure to find a solution that works for your specific needs.
ERP
Enterprise Resource Planning (ERP) is one of the most popular pieces of software used by large corporations and businesses that handle multiple locations. With an ERP solution in place, you can automate business processes such as managing inventory and vendor payments. You can generate a bill of material that offers complete visibility into the production costs. Also, you can generate real-time insights on the various areas of production and delivery. The savings made are evident from the various functionalities offered by the ERP modules.
Customer Relationship Management (CRM)
Similar to an ERP, CRM software helps you gain complete visibility into customer data ranging from preferences to the point of interaction. Any changes on the account are automatically updated in the system to seamlessly manage sales, billing, and customer service. CRM helps businesses to view all client's information, create opportunities, and respond to inquiries fast. This software also aids in marketing campaigns for companies as it also keeps track of client preferences.
Order Management
With online order management systems, businesses can create an online inventory form that automatically accommodates new products and pricing changes. This system allows the management of orders in the most efficient way possible to minimize lost sales and to ensure that all orders go through smoothly.
Customer Service
After implementing a customer service phone line, your business can be fully equipped with all standard services such as answering calls, replying to emails, sending out invoices, and factoring out freight. Plus, this software can also help you manage your company's reputation through integration with social listening tools. Social listening tools capture customer feedback from social media networks.


Image Credit:- Investopedia
Scanning
With the advent of self-service checkouts, more and more retail establishments are shifting towards online purchasing. The aim is to have customers do their shopping on the website without a cashier assisting them so that they can spend more time browsing the products and purchasing. Online checkouts could also be used to allow customers to opt out of having their personal details printed out in the system even if they have signed up for a newsletter. Also, this type of software could be used for payments such as credit card processing. Through this system each credit card can be scanned individually with no need for cashiers since each customer will already have his/her own account linked through your company's online system.
Mobile Apps
Smartphones are becoming an increasingly popular way of computing. In an online survey conducted by Hewlett-Packard (HP) in 2012, it was discovered that 36% of participants owned a smartphone; this is up from 25% in 2011. With more people relying on smartphones to check social media accounts and get information, having an app with a good UX can help promote your business. Mobile apps are also advantageous because they can be used as a constant advertisement for your company or product letting the world know what you have available. A mobile app could also have video tutorials or tips so that users can learn about how to use your products and better navigate their options. This can help you train sales teams if the tutorial video is posted on your company's website.
Consolidation
There are several business operations that can get executed and that vary from one another. For instance, you could have an online payment system, an invoicing tool, and a CRM solution all running at the same time to ensure efficiency in every department. This saves storage space on your computer and allows multiple functionalities in a single software.
Analytics
Similar to customer relationship management, you can use analytics to track changes in online behavior such as customer demographics, frequency, and amount of purchases. This helps businesses figure out what the competition is doing in terms of price, product selection, target audience, and more to give them an edge. Analytics also provide information on conversion rates so that you know how many visitors are helping you generate sales revenue.
Reporting
Reports let you directly access your company's financial standings through a time-efficient way. With reports you can compare several data sources such as your inventory and sales figures by date or by month. It allows you to make data-driven decisions regarding a new strategy or marketing campaign that will improve your current market performance.
To sum up:
There are many business software solutions that are available for companies to utilize in order to better their operations. The key is finding a provider that can provide the software solutions that your company needs at an affordable cost. Also, keep in mind what kinds of features are necessary for smooth operation and make sure to choose a provider that gives adequate support. As stated earlier, every business is different, but with the right business software solutions and providers, your company will be able to solve problems, grow revenues, and save on business expenses in the process!