Businesses are trying to grow with a transformation plan while managing to survive with a focus on optimizing. They have adopted a cloud strategy that enables their workloads and business processes to be agile, adaptable, and resilient while meeting the demands of remote connectivity. Further, the cloud strategy must meet an enterprise's long-term sustainability and profitability requirements. Cloud solutions can be single, multi, or poly cloud depending on the service requirements and solution offerings. Each of the players in the Cloud Ecosystem (including hyperscalers and the Cloud SaaS & PaaS companies) has invested in their specific product roadmap for their set of services in addition to the IaaS capabilities offered in the beginning phases of their growth. Organizations usually choose one major cloud player in the first wave of digital transformation and follow the traditional cloud transformation roadmaps and well-architected frameworks. As businesses are becoming more complex with factors like reduced time to market, agility, and interoperability, other innovative products on the market are emerging. Thus, business leaders have a greater demand for specific business requirements, resulting in functional and non-functional requirements defined by greater agility, flexibility, and interoperability. Enterprises today are not looking to relegate their business innovation roadmap to only one central cloud hyperscaler or a major SaaS platform. They want to innovate through their internal and extended engineering ecosystems by leveraging the more comprehensive innovation across the cloud ecosystem. Hence, enterprises are leveraging poly cloud architecture, which helps organizations in this transformation journey. Transformational Sustainability There has never been a more vital moment for CEOs to embrace sustainability as a core aspect of the enterprise. It's clear that environmentally minded organizations are set up for long-term success and the time to act is now. Many CEOs approach the sustainability challenge from a different perspective, visualizing potential vs. cost elements such as adopted strategies, engaged stakeholders, and technology capabilities used. Leading CEOs approach sustainability as an opportunity to drive growth and positively impact their business. CEOs' characterizations of their sustainability investments fall under the below categories: Assessing CEOs: Organizations with Assessing CEOs have not yet made any sustainability investments, with few implementing digital AI-enabled workflows and only 15% leveraging hybrid clouds. Complying CEOs: These CEOs make sustainability investments solely to meet compliance and regulatory requirements. Only a third leverage hybrid cloud environments and less than a quarter have implemented AI-enabled workflows. Operational CEOs: Operational CEOs view sustainability as a business optimization opportunity. Focused on operational improvements and efficiencies, they make sustainability investments in core business areas and regulatory compliance while leveraging the hybrid cloud. Transformational CEOs: This group defines sustainability investments as revolutionary business opportunities with mature digital capabilities and are sophisticated hybrid multi-cloud and poly cloud users.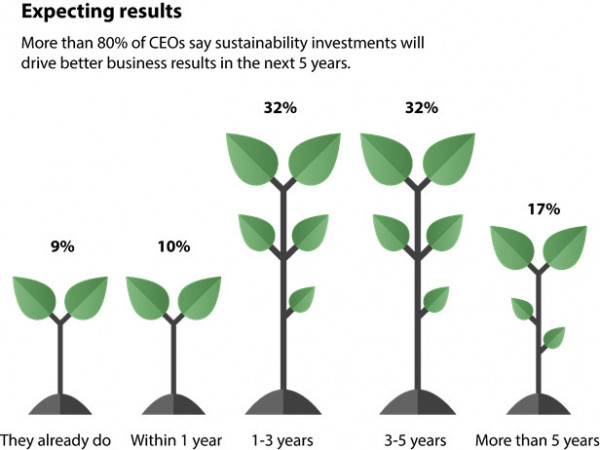 What does Poly Cloud mean? The poly cloud architecture leverages different cloud services into distinct cloud platforms. In simpler terms, poly cloud architecture aids businesses in running certain cloud services on one cloud while running some other cloud services on another cloud. Most modern organizations run their new application development on cloud computing, and cloud-native applications seem to have become increasingly common. Poly cloud is a cloud architecture that allows the business to mix and match the solution based on the best offering from the cloud service providers. It also gives the cost benefits and advanced offerings on cloud services, promoting cloud specialization services, value proposition, and differentiation.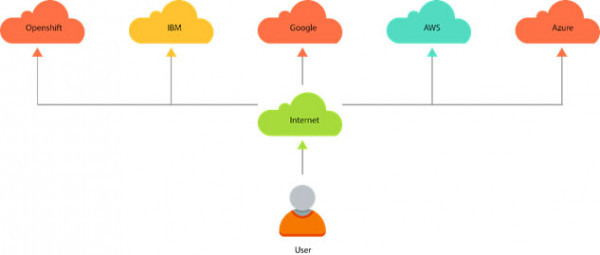 Diagram 1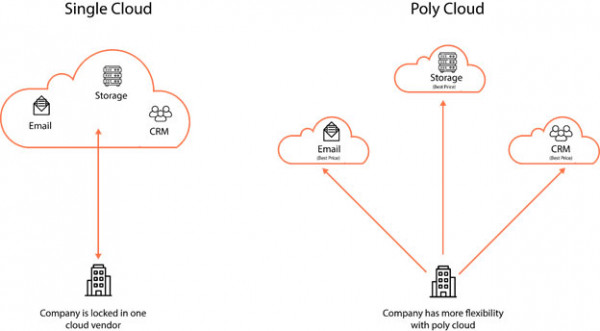 Diagram 2
Why choose Poly Cloud for business innovation?

 According to Flexera's 2022 State of Cloud report, 89% of organizations have adopted a multi-cloud environment, which will allow organizations to choose different cloud providers for different workloads and specific business requirements. With the high adoption of multi-cloud among organizations, the poly cloud attraction is starting to rise. Poly cloud not only ensures the service requirement matching but allows the use of the optimal tools for each job to achieve higher levels of productivity and efficiency. What makes Poly Cloud architecture important? The primary aim of poly cloud is to optimize pre-existing investments into multi-cloud platforms. Implementing poly cloud services solves this issue by taking a more systematic approach to workload placement. The poly cloud creates a better manageable environment by assigning each resource type to a specific cloud. It is a better approach for long-term outcomes by focusing on optimum cloud service features. Poly Cloud services & key considerations today Organizations are already adopting poly cloud services to take advantage of cost, performance, and best value offerings, eventually resulting in business innovation. Every hyper scaler has pricing models which allow data movement into the cloud (ingress) to be free and charge for the data movement from the cloud (egress). Poly cloud is not a tool or platform but an architecture concept that needs strong governance from FinOps models specific to an enterprise. Hence, a poly cloud architecture must be planned well and designed to leverage detailed cloud services and capabilities with solid cloud specialization and differentiation control. Poly cloud computing allows organizations to choose different cloud services from other service providers based on their business needs, which is very beneficial for: Summary Businesses adopted cloud technology initially to transform IT and operations. Native-born in the cloud, companies leveraged cloud platforms to develop their business. The industry has reached an inflection point where businesses are using cloud technology to invent new business models by leveraging the overarching cloud canvas for more comprehensive data, faster go-to-market, and broader API marketplaces. Enterprises are using poly cloud architecture to accelerate the business innovation trajectory along with planning for sustainability and cloud FinOps as significant business and IT goals. [/av_textblock]